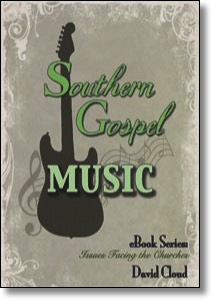 This well-documented book looks at the history of Southern Gospel as well as its current status and its intimate association today with Contemporary Christian Music. We examine how that Southern Gospel was commercialized and made into a form of entertainment in the 1940s and 1950s. In more recent decades it has taken an even more worldly-ecumenical-contemporary turn under the influence of men such as Bill Gaither.
---

Download Help Kindle Help eBook Info/Help

Please Read: After downloading you must add the mobi or epub file to the
library of your eReader (device) or reading app (tablet). Mobi files do not automatically
install onto the Kindle or Kindle app. You must "install it." See the Kindle help file above.
Because there are so many different devices and apps available for ebooks
it is up to you to know how use these files for your particular situation.